Airflow wood drying kilns
EKOPOL dryers are self-supporting constructions. The main structure of the dryer is made of alloy sections and alloy panels where walls and roof are insulated with 150 mm thick mineral wool. Modular structure of EKOPOL dryers enables to adapt their parameters to individual needs. EKOPOL wood chamber dryer can be used to dry timber of various types and wide range of humidity. All the chamber functions are performed automatically and are monitored by a microproscessor system.
The user sets only three parameters:
type of wood
wood thickness
required final humidity.
The drying process is then monitored and carried out by an accurate automatic EKOPOL 1 programmer. The user gets timber of required quality in the optimal time.
At now we produce a series of dryers able to house from 5 to 250 m³ (netto) of wood with 36% fulness factor.
The process of wood drying is faster in a chamber dryer but the physical and chemical wood property remain unchanged.
In EKOPOL chamber dryers no dust or chemicals are used for or during drying.
Additional options:
Heat exchangers
Throttles are connected in pairs – intake one with exhaust one. The duct connecting throttles with cross heat exchanger is insulated with mineral wool. The outgoing, exhaust and warm air heats up the intake air in the heat exchanger of the chamber. The intake air does not mix with the exhaust air in the system. The use of exchangers makes it possible to recover 50% of the exhaust air during heat exchange. The installation is equipped with the condensate drain system. The solution has been developed by our company and is protected by a patent.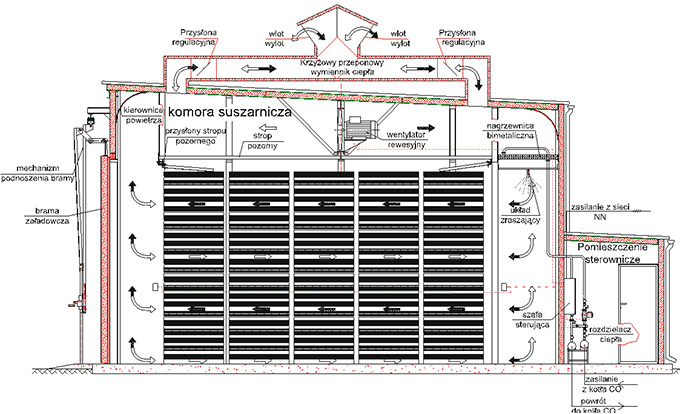 The system of inverter and fittings
The system of inverter and filter, which allows smooth adjustment of reverse fan rotations, reduces electricity consumption by 19% on average (depending on material dried).
The system consists of:
inverter,
output filter, control cabinet, expander, connectors and fittings,
shielded cables for engines
Electricity meter
Due to additional measurement of the chamber, you are able to determine precisely how much the drying cost and what the actual costs, concerning the process, are.
The price of wood drying chamber depends on its size and additional equipment, which allows for energy savings during exploitation.